Intellectual Output 1 (ICS 2019-2021) – Study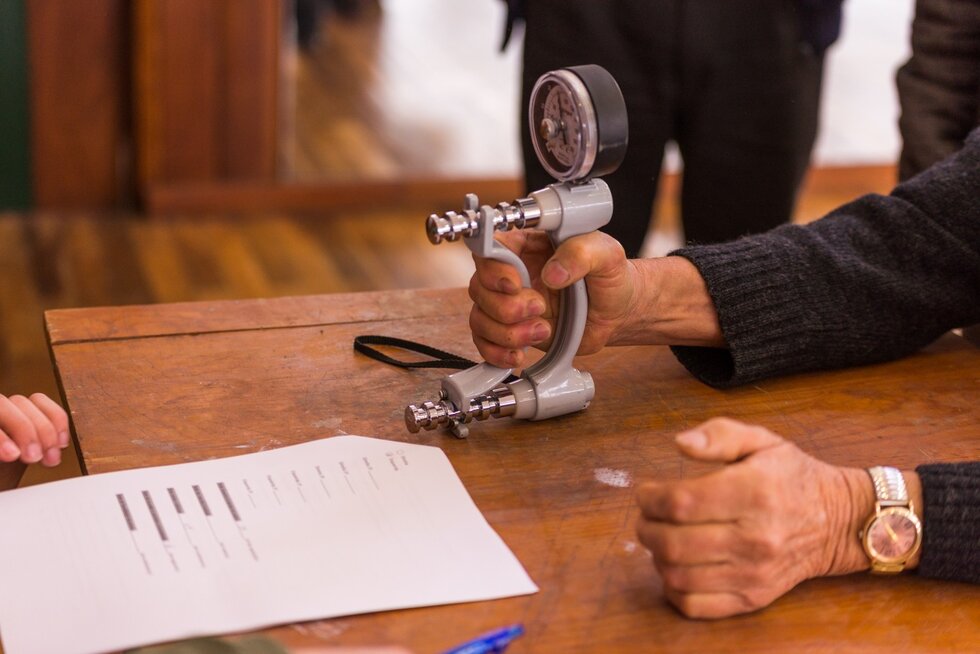 INTELLECTUAL OUTPUT 1 – STUDY
STUDY "Physical Fitness and Cognitive Performance of the Elderly - Competition as an Additional Motivation for Promoting an Active Lifestyle"
The study that will be carried out in this project intends to collect baseline and follow-up data to evaluate the health-related changes of physical fitness, self-perception of health, and biological markers, in the aged population. Determinants such as culture, built environment, socioeconomic status, educational level, family context, lifelong occupancy, and transition into retirement are believed to interfere with individual health and lifestyle. Additionally, the countries' economic indicators seem to be strongly correlated with frailty and fitness levels in the elderly. The literature available is not clear about context markers on ageing, such as environment, dietary and past active work-life. Therefore, the present study may provide an insight on living style and the promotion of a health-related lifestyle. It will expect to carry out a mixed design study (split-plot design) with a randomised assignment of participants to three experimental groups (blocks), and a randomization of three intervention plan as experimental treatment (repeated measures). The investigation will embrace five European countries – Portugal, Italy, Greece, Bulgaria and Hungary, with a wide range of socio-economic contexts, looking for increasing wellbeing conditions under similar motivation – to improve self-performance and be ready for the event (sports games). On the other hand, the few researches related with sports competitions as key factor to motivation of a healthy lifestyle among the elderly, and the low levels of physical activity among the citizens of the countries involved in this project, conducted the project team to deepen mutual understanding and improve the evidence-base related to the motivation factors for systematic physical activity in aged population taking into account specific determinants of each country. Based on a planned competition, as motivation for practice, a set of training sessions will be designed and prescribed to improve both physical and cognitive level. In order to better capture the dynamic interaction between the multiple factors affecting the lives of the aged population, the study will be conducted under a multidisciplinary approach in a follow-up design. The IPVC will be responsible for this Work Package. The investigation group include people with background on public health, longitudinal data statistical analysis and physical fitness testing aged population. Tasks such as planning and controlling the specific management steps that will lead to the project's objectives will be its responsibility. The partners will be responsible for training sports technicians in developing interventions sessions and collecting both questionnaire and physical fitness data, under head researcher supervision. The IPVC will also be responsible for management of database. The partners and the sport technicians will be responsible for the participant's recruitment.
PHASES OF THE STUDY
1. RECRUITMENT AND SELECTION OF PARTICIPANTS
The sample will be selected from adults over 60 years of age representatives of the participant regions. It will be necessary to recruit, at least, 75 participants per region for this study. Measures to promote gender equality should be ensured in the selection of participants. Three groups will be defined in compliance of the next scheme:
VNCERVEIRA (PT)
CESENA (IT)
PONTEVEDRA (SP)
AKSAKOVO (BG)
ZÖLDPONT (HU)
2. PARTICIPANTS ASSESSMENT
This longitudinal study includes six moments for assessment - March/April 2018, as a baseline, September 2018, March/April 2019, September 2019, March/April 2020, and September 2020. The assessment sessions will be performed in an appropriate place available by the local organisation and carried out by the technicians provided by the local partner under the supervision of researchers from the IPVC. Participants will be assessed based on Anthropometric, biological and cognitive measures.
Anthropometric measures:
Stadiometer (seca 213, portable): Height (m)
Tanita BC-545N: weight (kg), BMI (kg/m2), body fat (%)
Flexible tape: waist and hip perimeters (cm)
Automatic blood pressure monitor (Omron M2 Basic (Ref. HEM-7120): SBP and DBP (mmhg)
Pedometers: 7 days (24h), representing usual physical activity
Cognitive assessment:
Mini-Mental State Examination, EQ-5D-5L & Participation Motivation Questionnaire Physical fitness tests:
Chair Stand Test - lower body strength (times of full stand and sit in 30 seconds)
Chair Sit and Reach Test - lower body flexibility (distance between toes and fingertips)
Back Scratch Test - flexibility of upper body (distance between the fingertips of one hand and the other is measured to the nearest half‐inch)
Handgrip Test - upper limb muscle strength (the best score of each hand will be considered)
Up and Go Test - your speed, agility and balance (best score/time, 2 reps)
6 minutes walking Test – cardiorespiratory capacity (maximal distance, in meters, walked by participant)
FORMS OF PARTICIPANTS ASSESSMENT:
FORM - ASSESSMENT BATTERY
FORM 01 - INSERT PARTICIPANT
FORM 02 - MINI-MENTAL STATE EXAMINATION (MMSE)
FORM 03 - EQ-5D-5L
FORM 04 - PARTICIPATIO MOTIVATION QUESTIONAIRE
FORM 05 - OBJECTIVE MEASURES es
VNCERVEIRA (PT)
CESENA (IT)
PONTEVEDRA (SP)
AKSAKOVO (BG)
ZÖLDPONT (HU)
3. TRAINING SESSIONS
Group 1 and 2 will be subject to a physical activity intervention plan with two training sessions per week structured for two years (44 weeks each year). This plan should include aerobic activity of moderate intensity (walking for example), in addition to muscle strengthening activities interspersed with aerobic activity of vigorous intensity (jogging, running). The training sessions are expected to start in April 2018 and follow this structure for two years. After this period, they may continue to benefit guidance in training, but this action will remain pending of the motivation demonstrated by the group, and will be supported exclusively by the partner organization / organization. The training will serve as the basis for the preparation of the event.
VNCERVEIRA (PT)
CESENA (IT)
PONTEVEDRA (SP)
AKSAKOVO (BG)
ZÖLDPONT (HU)
4. COMPETITIONS
Three competitions are expected to take place in each of the 5 countries involved in the project, on the following dates– September 2018 – September – 2019 and September 2020. Each involved region will execute its event under supervision of the project leader. The event will involve six different competitions, 4 sports modalities and 2 optional, according to traditional games of the involved regions (for example, in the Portuguese case the modalities are petanque and rope traction), and the events should embrace, at least, 100 participants in each involved region. It is anticipated that the competition will work as additional motivation for better physical activity practice and improve life quality. The conditional capacity, such as muscle strength and cardiorespiratory capacity, and cognitive performance will be stimulated with evident benefices for individuals. On the other hand, with the creation of conditions for the regular practice of physical activity, as well as the dynamics created (Olympics 2018 and 2019), it is foreseen that the competition in 2020 and in the following years will be held in each region without the EU support. (More Information)
VNCERVEIRA (PT)
CESENA (IT)
PONTEVEDRA (SP)
AKSAKOVO (BG)
ZÖLDPONT (HU)
5. FIRST INTERMEDIATE REPORT
FIRST INTERMEDIATE REPORT - IN COMMON SPORTS 2019


6. SECOND INTERMEDIATE REPORT

SECOND INTERMEDIATE REPORT - IN COMMON SPORTS 2020
7. PUBLICATIONS IN SCIENTIFIC JOURNALS
L Dallolio, S Colaci, A Masini, S Marini, J M Cancela-Carral, P Bezerra, (2020). Health impact of an intervention sport-competition-based in elderly: the "In-Common sport" project. European Journal of Public Health, Volume 30, Issue Supplement_5, ckaa166.416, https://doi.org/10.1093/eurpub/ckaa166.416
José Maria Cancela, Irimia Mollinedo, Manuela Ferreira, Pedro Bezerra (2020). Reasons Why Older Adults Engage in Physical Exercise. Comparative Study Eastern Europe Versus Southern Europe. Journal of aging and physical activity. pp 1-8. DOI: https://doi.org/10.1123/japa.2019-0450
José M. Cancela, Miguel A. Sanchez-Lastra, Miguel Camões, Pedro Bezerra (2020). Hematological detraining-related changes among elderly individuals with high blood pressure. Rev Assoc Med Bras; 66(8):1108-1115. http://dx.doi.org/10.1590/1806-9282.66.8.1108
Pedro Bezerra, Vitor Lopes, Celina Gonçalves (2020). Physical Function Of Aged Population Is Predicted By Motor Competence And Physical Fitness. Medicine & Science in Sports & Exercise, Vol 52, Issue 7S, pp 451. http://hdl.handle.net/10198/23020
J.M. Cancela Carral, Pedro Bezerra, LP Rodrigues, M Camões (2020). Intervention-related On Aging Health State Over European Countries. May The Context Frame The Difference?. Medicine & Science in Sports & Exercise, Vol 52, Issue 7S, pp 444.
Carral, J M C, Rodríguez, A L, Cardalda, I M, Bezerra, P. (2019). Muscle strength training program in nonagenarians – a randomized controlled trial. Revista da Associação Médica Brasileira, 65(6), 851-856. Epub July 22, 2019. https://dx.doi.org/10.1590/1806-9282.65.6.851
Bezerra, P.; Filipe Manuel Clemente, Marton Dvorak João Camões (2019). Age-related Health State Over European Countries: The Context May Be The Difference. Medicine & Science in Sports & Exercise. 2019, v. 49, nº5, p. S429-430.
P. Bezerra, Luis P. Rodrigues, C. Ayan, JM Cancela; (2018). The influence of winter and summer seasons on physical fitness in aged population. Archives of Gerontology and Geriatrics, V. 76, May-Jun, p. 80-84. https://doi.org/10.1016/j.archger.2018.02.008
8. FINAL REPORT – IN COMMON SPORTS
FINAL REPORT – STUDY IN COMMON SPORTS
FINAL REPORT – STUDY IN COMMON SPORTS (SHORT VERSION)
9. RAW AND ANALYSED DATA AVAILABLE
If you use this data base please cite – "Bezerra, P., Cancela-Carral, JM. (2020). "IN COMMON SPORTS - INTERGENERATIONAL COMPETITION AS MOTIVATION FOR SPORT AND HEALTHY LIFESTYLE OF SENIOR CITIZENS" /590543-EPP-1-2017-1-PT-SPO-SCP/ Erasmus +.
Municipality of Vila Nova de Cerveira - Database available at http://www.olympics4all.eu/info/intelectual_outputs-io1.php"