The 3rd and also the Final Assessment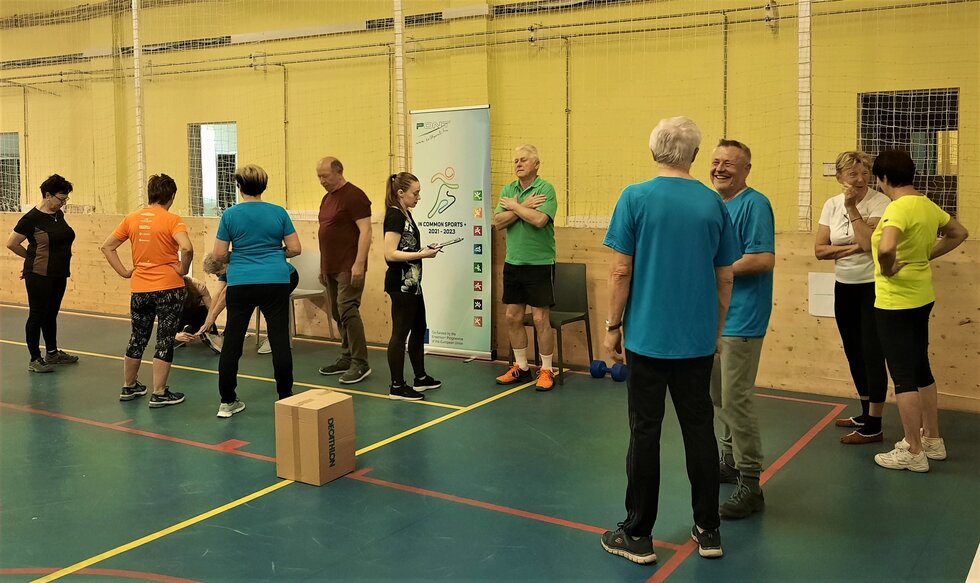 During May and June of 2023 all the Partners fulfilled the 3rd assessment sessions which is the last of the project. The protocol developed by the project partners, in particular by the University of Vigo (Spain) and IPVC (Portugal), was followed as usual. Participants were evaluated on the basis of anthropometric measurements and body composition analysis, then tests (Handgrip, Chair Stand Test, Back scratch, Arm Curl, Two Minute Step, Six Minute Walk, Sit-and-Reach, 8-Foot Up and Go) for physical condition (strength, endurance, flexibility).
On May 8th-9th and 10th-12th the participants of the European Project "In Common Sports+: Fit, Food and Fun for Elderly of the Municipality of Sanxenxo participated in the third and last assessment provided for by the project. The evaluation was carried out under the direction of the HealthyFit research group of the University of Vigo coordinated by José María Cancela Carral and Adriana López Rodríguez. A total of 72 people participated in the assessments (average age 72.33), of which 55 were women and 17 men.
Regular fitness testing is essential to ensure that we are heading in the right direction in terms of health and fitness. The physical condition tests tell us whether they have gone up or down in terms of their physical condition and their overall state of health.
In Vila Nova de Cerveira and Viana do Castelo in Portugal, the assessment was carried out also in May: 75 elderly (39 women) participated with the average age of 70.36 years for women and 72.36 years for men.
Also in May, the assessment took place under the watchful eye of head coach Jan Gašparin and assistants and organized by Darjo Trobec in Nova Gorica (Slovenia). A total of 72 people participated in the assessments (average age 71.6), of which 64 were women and 8 men.
The assessment was carried out under the guidance of trainer Martina Casadei in Cesena, Italy as well in May. Participants were asked to fill in a motivational and self-assessment questionnaire about their health status and to perform some physical exercises to assess their physical condition. Overall 86 people took part in the evaluations: 65 women and 21 men. The youngest participant was 61, the "less young" 84 years old.
In Hungary the assessments were carried out by Zöldpont in 3 days where 45 participants (33 women and 12 men) were measured with the usual protocol. More elderly wanted to take part of these days but because of other programs or health issues their assessment will be after the summer holiday.
During the period 8-12th June was carried out final assessment of the elderly people in Municipality Aksakovo, Bulgary. In the testing took part 65 participants. Their age was between 64 and 83 years and there were only 2 men only.